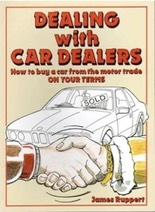 Dealing with Car Dealers
In 1987 I wrote this book detailing for the first time how new and used car dealers operated. I must admit that it all looks a bit dated now, but it does contain information about negotiations and getting a good deal that is still relevant. Incredibly for one of my books it was reprinted and so I do have some spare as new copies, though not that many. It cost a mere £2.95 back then and I am not asking much more now. Indeed for just £4.99 I will stick it in an envelope if you click on the button below, or you may just find one in your local charity shop for 5p, if not less.
£4.99 including postage unless you are based outside the UK. Contact us for a quote.
BUTTONS SUSPENDED DUE TO COMMUNIST CHINESE GOVERNMENT HACKING OF MY ACCOUNTS CONTACT ME DIRECT TO BUY