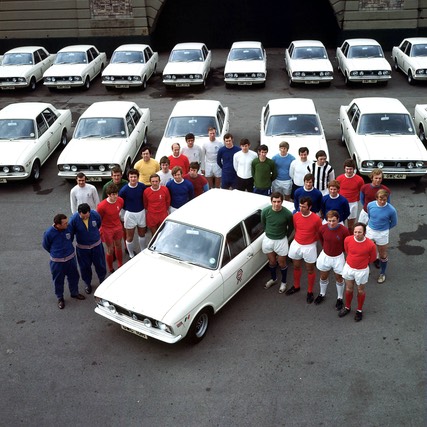 Whatever happened to the 1970 World Cup Squad's Ford Cortina 1600Es? And how footballers bought better cars when they earned more money and no longer owned the same motors that your mum and dad drove.
In 1970 something very remarkable happened. Not only had England qualified for the World Cup in Mexico because they were defending champions, but most important of all Ford had loaned every squad member the greatest saloon car in the world. From Gordon Banks at the back to Geoff Hurst at the front they all got a Ford Cortina 1600E.
So what we have here then is a truly confusing book. It's slightly about football, but also about cars too. Footballers and cars. Footballers and their cars.
Superficially it seems that as footballers became better paid, the games became less interesting and their names much harder to pronounce. From essentially being working class grafters whose first car was the same bus as the fans used to get to the ground, they seem to have become prima donnas with cars that cost more than most supporters could reasonably earn in a year, a decade or possibly a lifetime.
Here awarding winning motoring writer and one footed, right sided goal hanger James Ruppert (Walthamstow Inter Estate League Cup Winner 1975) explains the professional footballer's complicated relationship with their cars. From the times when they would travel to games with the fans on the tram or bus, to the modern era where they most certainly don't. And also why there's a car park full of supercars where the meat pie and programme sellers used to be. He also tracks down the surviving World Cup Cortinas and reunites a squad member with the car he bought from Ford in 1971. 
World Cup Cortinas buy now from Amazon for £9.99 click on the logo to go there....
World Cup Cortinas £9.99 inclusive of UK Postage from me with and a signature/dedication, 
BUTTONS SUSPENDED DUE TO COMMUNIST CHINESE GOVERNMENT HACKING OF MY ACCOUNTS CONTACT ME DIRECT TO BUY

(All payments will be recorded as Flyscreen Queen on your card/account)
IF YOU LIVE OUTSIDE OF THE UK PLEASE EMAIL US FOR A POSTAGE QUOTE However postage to the EU is £5 United States Australia/NZ £10.
World Cup Cortinas buy now from Amazon for £9.99 click on the logo to go there....

The Kindle Version costs £4.91 (a few pictures are resized to fit the tablet format) and can be found at Amazon if you click on the cover below...or 
My own PDF version which costs £2.99 and is identical to the Kindle one, but quite a few pictures are in colour. I email this to you as a zip file.BUTTONS SUSPENDED DUE TO COMMUNIST CHINESE GOVERNMENT HACKING OF MY ACCOUNTS CONTACT ME DIRECT TO BUY
IF YOU LIVE OUTSIDE OF THE UK PLEASE EMAIL US FOR A POSTAGE QUOTE However postage to the EU is £5 United States Australia/NZ £10.00