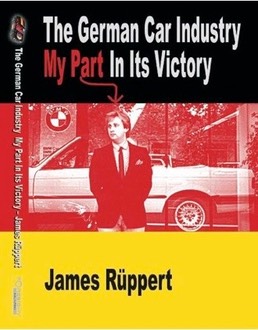 The German Car Industry
My Part in its Victory
Best Motoring Book 2011
Winner of the Mercedes-Benz Montagu of Beaulieu Trophy
James Ruppert explains why German cars from the 1980s were quite simply, wunderbar. Because when it came to build quality, reliability and performance every other car made anywhere else in the world was rubbish.  
The 1980s was a time when if you went shopping a VW Polo was the perfect companion. Beating an MG away from the lights was dead easy in a GTI. Making a lasting impression meant arriving in an SL, SLC or any enormous Mercedes S-Class. It's a time when BMW M3s were racing certainties and a Quattro Turbo would always stay glued to the road. Getting poolside and on the sun lounger before the Germans only required one of their fine Audi 100 Avants. Proper showing off meant a Porsche 911 Turbo with its wonderful attention seeking tea tray rear spoiler. And the model that every young, upwardly mobile professional wanted parked outside their mews flat was a BMW 3 Series.
Ruppert details how all these companies progressed to the 1980s and just what they did when they got there. Luckily he was there too, flogging BMWs at the prestigious West End Showroom, in Park Lane to yuppies, film stars and anyone else who could afford the non-refundable 10% deposit. With 'Jimmy Spandau' as a nick name, a brand new BMW every few months and substantial on target earnings, life was good. It was also also dangerous when a 635 CSi on a test drive hit 100mph on the Mall. The Queen was not amused.
From the author of the critically acclaimed, The British Car Industry Our Part in its Downfall, here is his unique take on the German one, and er, why it won.
Sorry, I no longer sell the book direct, so please order from your preferred book supplier….a digital version is on its way
Nice things that have been said about the German Car Industry My Part in its Victory by people who should know much better...
Sprinkled from pages one to 290 with uniquely funny anecdotes and good sense about cars...a number of excellent illustrations by the author and a wryly observed one man history of several decades of German cars... -  Steve Cropley Editor in Chief Autocar
Life Affirming - Chas Hallet Editor in Chief What Car?
Any book that kicks off with a foreword by the late, great Kenny Everett gets our vote...If you recall Vorsprung durch Technik and that Golf advert, buy a copy. It's brilliant. - Classic and Sportscar
An amusing read, and worth a punt not just as a reminder of the cars but to remember the awfulness of popular music at the time. - Octane Magazine
It is witty, insightful, full of great anecdotes and plenty of facts...have it by your bedside - Classic Cars
For a fresh and unique take on the German car industry , look no further - Autocar
Explains why German cars from the 1980s were quite simply, wunderbar - Retro Cars
It's certainly a worthwhile addition to any petrolhead's bookcase - Performance BMW
If you've happy memories of the Eighties, you'll enjoy reading about James's antics selling BMWs to yuppies and film stars, not to mention his thoughts on the cassettes he was playing on his 
Blaupunkt deck! - Total 911
Ruppert also reminisces on selling BMWs from a West End showroom and as a critically-acclaimed columnist his personal input actually make up some of the best bits - Classic Car Buyer
I have to say the book was a lot of fun, too. Bite-sized chunks of personality pepper the content, which makes this book all the more lovely to read...Overall a great laugh...buy it - Keith Adams Editor  www.aronline.co.uk 
And how many other books have you read with a foreword by the late, great Kenny Everett? If you know your cars, then this is a must have for your book shelf; a bargain at £12.99 (no offers) - Keith Jones author of the forthcoming A-Z Cars 1990 - 1999 A complete Guide to Cars sold in Britain