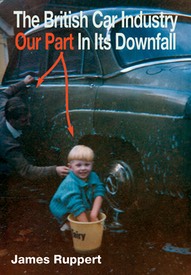 The British Car Industry - Our Part in its Downfall
Book or EBook format see below
It is the true story of what happened to the British Car Industry from 1945 until it effectively ended with the implosion of MG Rover in 2005. It occurred to me that my Dads car owning, driving and buying history (from a Triumph Mayflower to a VW Golf) was a great way of injecting some social history into it all. I also wondered whether his decision in the 1970s to buy an Audi triggered the downfall, or was it the inept motor industry management, stupid commie unions or meddling governments. I think we know the answer, but it is fun finding out and there some good stories along the way. There are also tons of small black and white pictures of cars and people from the era, plus all the cars that my Dad bought. Many of the cars featured have become Bangernomics legends. Essentially you do not need to be a petrolhead to enjoy it, so buy it for your mum, dad or uncle for Christmas. 
Sorry, I no longer sell the book direct, so please order from your preferred book supplier….there is a digital version though below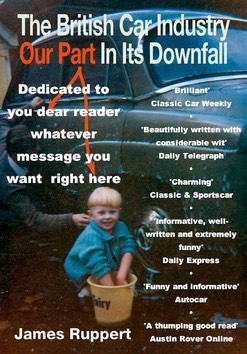 The slightly revised E Book version of The British Car Industry Our Part In Its Downfall, with new pictures, layout and a few other bits and bobs tidied up. Buy it for just £2.99 and then I will email you a PDF link so you can download it. Click on the button to buy.
We have had some very kind reviews, here is a selection...
Beautifully written with considerable wit. Honest John – Daily Telegraph.
We're big fans of Ruppert's writing…it's a great read. Highly Recommended -  Dep-O Magazine
Great if you want to understand the utter chaos of the rise and fall of the British car - Mini World
It's informative, well-written and extremely funny - anyone who bemoans the demise of the British Car industry should make a beeline for this fantastic book - Daily Express
A fascinating book that explains, in grim detail, just what happened to an industry that used to comprise more than two dozen marques - Daily Mail Online
A light emotive and charming view of a difficult period for British pride. Classic and Sports Car
James Ruppert's book is a mixture of social history and personal insight. Classics Monthly
A funny and informative account of the industry – Autocar
Writing a readable motoring book is difficult enough, but writing something brilliant which gives a totally different outlook on a well covered subject is a true achievement….it's the warmth of the family story that really makes this book something special 
Classic Car Weekly
From start to finish it is a thumping good read… personal, honest and deadly accurate. The notion of using his family as a microcosm for the country at large is very, very clever - Austin Rover Online
It is fun to read…a must not just for the car enthusiast, but anyone who enjoys a laugh at a good story well told. 
Used Car Expert Magazine
It's a quirky and original idea and you're treated to and up close and intimate account of the author's motoring life and what it meant to own the cars produced by a motor industry that was slowly dying as well as some wry observations about life in the Seventies - 
Classic Car Mart
It's a good read - Practical Classics