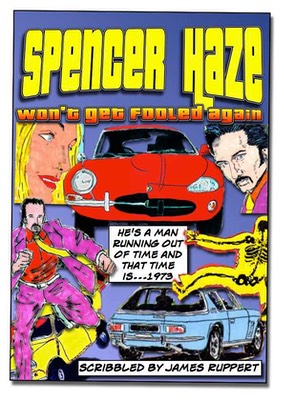 Spencer Haze is a man running out time and that time is 1973. Haze is the hero of a graphic novel that was first aired in 2000 on Channel 4's motoring website. Left for dead in a docklands lock up in 1973 Haze only rejoins the human race in the year 2000. The confused, flared trousered and extravagantly whiskered Haze must find out exactly who stuck him in a deep freezer. Coping with the 21st Century is not going to be easy unless you are prepared to dress, drive, party, punch first and ask questions later like it's 1973. Welcome to the noughties Mr Haze, we've been expecting you.
The original automotive superhero is back between the virtual EBooks sheets and Spencer Haze - Won't Get Fooled Again is now available to download as a full colour 160 frame Ebook PDF and it costs just 99p. When you buy, the Spencer Haze Organization will then email you a Dropbox link that you can download. Enjoy. Read reviews below
Also available on Amazon for the Kindle, but it will most likely be black and white rather than full colour, but you can download it right here by clicking on Spencer Haze's Telex Machine.
Spencer Haze gets Reviewed by the Mags and the Web...
Haze is an E-Type and Interceptor driving international man of mystery in the classic mould. Fans of the Persuaders and Department S will find much to enjoy. Classic Cars Magazine
The Spencer Haze graphic novel is available now... and we'll admit that it's a brilliant little thing. Keith Adams AR Online

Completely nuts, but a great laugh. MG Enthusiast
So if you still miss the decade of the mutton chop and hot pants, when young ladies only sipped Babycham Spencer Haze will give you a dose of the good stuff. Simon Charlesworth Dep-0 Magazine

You can almost hear the ooofs, wallops and whacks through your computer. Petrol Blog http://petrolblog.com/2012/07/20/petrolblog-looks-at-spencer-haze/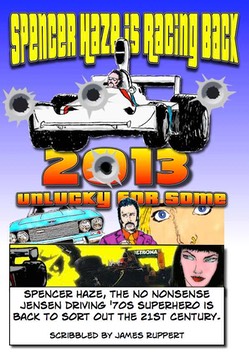 '2013 Unlucky For Some' the latest Spencer Haze story is coming soon with more classic cars and '70s shenanigans.... 
Put Spencer Haze on your chest....look at the range of Spencer Haze T shirts at Red Bubble...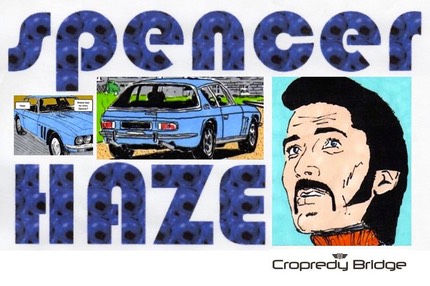 '70s Superhero Spencer Haze is working with Cropredy Bridge the world's leading supplier, restorer and appreciator of Jensens and Jensen Interceptors. Surf to their super dooper website www.cropredybridge.com